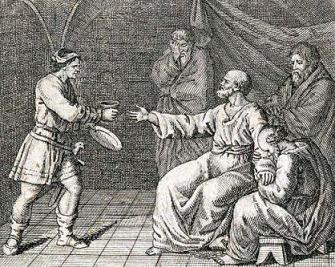 Image via Haral Fischer Varlag
When asked if the state of Montana has the power to keep a terminally ill man alive against his will, Judge Dorothy McCarter ruled, "
The Montana constitutional rights of individual privacy and human dignity, taken together, encompass the right of a competent terminally (ill) patient to die with dignity.
" Going further, Hon. McCarter wrote, "The patient's right to die with dignity includes protection of the patient's physician from liability under the state's homicide statutes."
Recently, Washington State passed the
Death With Dignity Act.
On October, 27, 1997, Oregon made history by being the
fist state to pass such legislation after a 3 year fight to enact voters' will as demonstrated in the
successful 1994 Ballot Measure 16.
Oregon, Washington, Montana (pending further legal challenges), join Belgium, Switzerland and the Netherlands in their progressive stance on legal aid in dying. In Canada,
Sue Rodriguez
, suffering from the terminal illness, ALS, posed the question, "Whose body is this?" all the way to the highest courts in the land. Despite losing her legal battles, a physician, in the presence of a member of the Canadian Parliament, assisted Ms. Rodriguez in ending her life. Neither the doctor nor the MP were charged with crimes.
Who is sponsoring the fight against initiatives to allow the practice of physician-assisted suicide (PAS)? Despite internal debate with respect to how PAS aligns with their
professional motives, doctors appreciate the protection from the law. Patients, suffering unspeakable anguish and facing the prospect of nothing other than a continuation of such anguish for their remaining heartbeats have mercy available to themselves and their families while maintaining agency over their lives and bodies. Medical ethics groups and other rights' groups tend to look approvingly upon such legal protection, as the question over state force vs. autonomous sovereignty are well argued and reasoned in such instances. In Gonzales vs. Oregon, the United States Supreme Court ruled 6-3 that, "The CSA (Controlled Substances Act) does not allow the Attorney General to prohibit doctors from prescribing regulated drugs for use in physician-assisted suicide under state law permitting the procedure."
So, who is fighting against the Death with Dignity movement and why? For one, some legislators are not bringing such bills to a vote while hiding behind weak excuses such as insurance complexity and legal hang-ups. These are certainly not the causal arguments against PAS. According to the Seattle Times, "the Catholic Church's political arm has aggressively opposed such measures." Yet, that same article notes that a lot of the hangup appears to be lexical, "A 2005 Gallup Poll appeared to show that voters were more enthusiastic — by 17 percentage points — about allowing doctors to take an incurably ill patient's life than to "assist the patient to commit suicide." The question here does not appear to be about faith, as the faithful's opposition generally revolves around the notion that life itself is a god given gift, and that gift requires protection and care.
That argument is noteworthy for its lack of recognition that medicine, not god, has often kept the terminally ill alive. A Christian Scientist, or one of the other groups who refuse medical treatment would be dead long before the terminally ill patients seeking a legal right to death with dignity would ever consider their decision. Moreover, if this is a consideration of faith, why do the faithful get to impose their will on the less-or-non-or-divergently-faithful via the state? Certainly, if a person of faith chooses to die an agonizing death, waiting for the hand of god to take them, they already have every freedom and right available to them to do so. Is it just to allow them to force that decision upon other terminally ill people who may seek a different path?
I do not accept that such force, making death with dignity beyond the law, is just. We are not discussing cases such as that of Terri Schiavo here. Nor are we discussing the admittedly radical stance on suicide I hold and has already been discussed on this blog. Here, we are discussing a very narrow instance of a cognizant and terminally ill person choosing, for themselves to have a prescription for a lethal dose(s) of medication written for them. Again, the question is asked, why shall the state force sufferers of terminal illnesses to live against their will?